4 Key Trends From the Citi Mobile Challenge
InformationWeek: Bank Systems and Technology – by Jonathan Camhi
Presenters at the Citi Mobile Challenge demo day demonstrated how mobile is changing financial services.
Banks can struggle to innovate sometimes, given their legacy systems, regulatory requirements, budget allocations, and tendency to avoid risk. So Citi is reaching out for some innovation help. It is starting to open its APIs to developers, enabling them to create solutions to benefit the bank and its customers. By putting some roots in the developer community, the bank is turning away from a traditional, proprietary IT approach, and it hopes to deliver new innovations faster to its clients.
Looking to build connections with developers, Citi hosted a mobile-centric hackathon, the Citi Mobile Challenge, and demoed solutions from 64 contestants in three different cities this week. The solutions that were demoed will be broken down into categories, with judges (from Citi and other organizations) selecting two winners from each category. Citi will then work with each winner to launch the solutions as part of its mobile offerings.
"This event helps us build contacts at firms that are tapped into developer communities, and bring in companies that are not typical for us to work with," Melissa Stevens, director of mobile and Internet for Citi, said at the event. "We understand that the developers are part of the solution. They can bring in new ideas, and they have a different way of thinking about things" than bankers do.
APIs
Citi's open API approach was at the heart of the contestants' demonstrations this week. The developers were able to build solutions that improve Citi's mobile offerings and integrate them with its branch network and rewards program, all thanks to Citi opening up its technology platforms through APIs.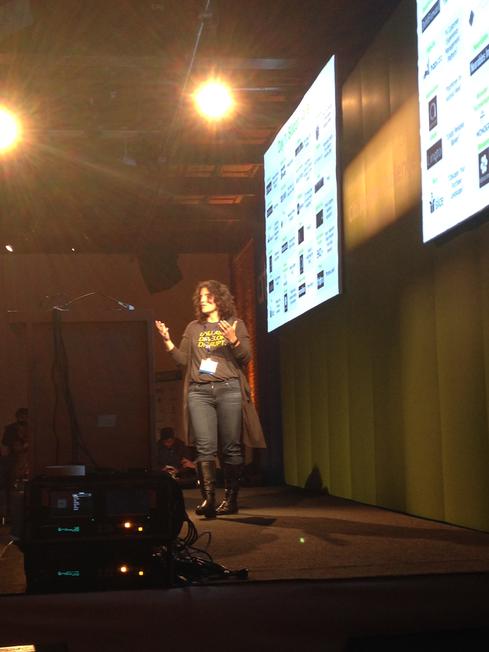 Citi's Melissa Stevens on stage at the Citi Mobile Challenge demo day.
Stevens said this is only the beginning of Citi's three-pronged strategy around APIs. With such a large and complex technology infrastructure, the company is working on building internal APIs that that would help open up access within the organization to different technology platforms and resources. It is also continuing to work on opening up its platforms with outward-facing APIs. Eventually, it would like to integrate APIs from its technology partners into its own platforms.
"We have a lot more work to do in those three areas to build that gateway," she said. "This is new for us, but we're getting bigger and bolder" with APIs.
Mobile and rewards
Several of the solutions demonstrated at the event focused on integrating rewards programs and discount offers with Citi's mobile app. A team from 1card Inc. demonstrated its Cardley solution, a mobile wallet that centralizes all of a user's coupon offers and rewards points and shows where they can be used on a geolocation map.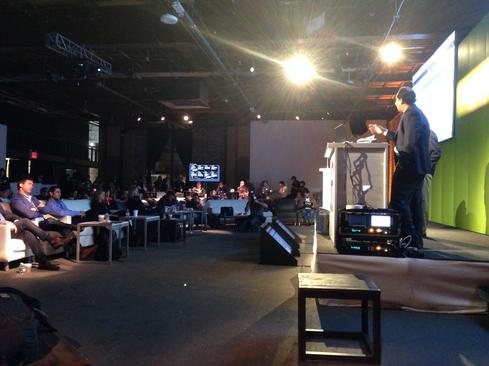 Presentations at the Citi Mobile Challenge demo day.
Simo Moujami of WebInvent introduced PopCard, which recommends which credit card to use for specific purchases to maximize reward earning. It also incorporates geolocation in the Citi app to show where rewards can be earned. It can also help users earn more points at nearby locations.
And another team of developers (Team Loyola) showed off Plukky, which helps Citi customers use their ThankYou rewards points at local businesses. With a store-facing app, the server or cashier types in the customer's phone number, and the Citi customer is prompted to approve the use of ThankYou points for the transaction.
Beacons and branches
Using mobile to improve the branch customer experience was also a major focus for the developers. Most of the solutions in this area leveraged beacons. One example was the Swift app from Dogtown Media; the app lets customers make an appointment at a branch. When the customer shows up, beacons at the branch entrance ping the banker meeting the customer. The app then provides that banker all the bank's information on that customer.
"This way, the banker is prepared for you and can concentrate on building the client-banker relationship," said Mark Fisher, Dogtown Media's CEO.
SPREO LLC demonstrated a similar solution that uses beacons to push customer data to branch employees when a customer enters a branch. And LMTD LLC showed off a solution that lets customers see how long the wait is to see a banker at a local branch at any time. Customers can also use the app to put themselves in the waiting line before they get to the branch.
Citi technology executives answer questions from the crowd of developers.
Making money social
Several solutions involved sharing money or splitting purchases with friends and family. EPAM Systems introduced K-Ching, which lets users request a loan from family or friends through the contacts in their mobile device. The potential lender gets an alert notification and can accept or deny the loan request. If the request is accepted, the lender can set terms for paying the loan back. The money is transferred automatically to the borrower's account.
"Last year, there were $2.4 billion in P2P loans," said Nikolai Chowdhury of EPAM. "We're offering an opportunity" for bankers to participate in that.
And Russ Freeman of Capco's iLabs offered a solution that lets users split large purchases with their family or friends. The user can create an event (like a concert or trip) and then send requests to mobile contacts to chip in. The user draws the money for the event from the accounts of those who accept the request.
"This puts the bank in the middle of people's personal relationships," Freeman said.
Russ Freeman of Capco's iLabs.
here.
Original publication is