From Vision to Reality: How EPAM Developed GRAIN, an AI-Powered Device & Platform
Artificial intelligence has captured our imagination

From the articles we read, to the news we watch, to the social media influencers we follow, the topic is ubiquitous. But what does it mean for businesses, and how and when should you take advantage of the technology? It's hard to validate the application of artificial intelligence (AI) and whether it's the right tool to bring business value – never mind the cost associated with developing a system first to test it. Add that to the expertise required to make the most of your newly acquired data, and it can be overwhelming. The enormous potential of AI inspired us to overcome these challenges and we started thinking… Can we create new technology that could be used as an accelerator for companies to quickly implement AI-powered data capture and analysis? And that's how GRAIN was born.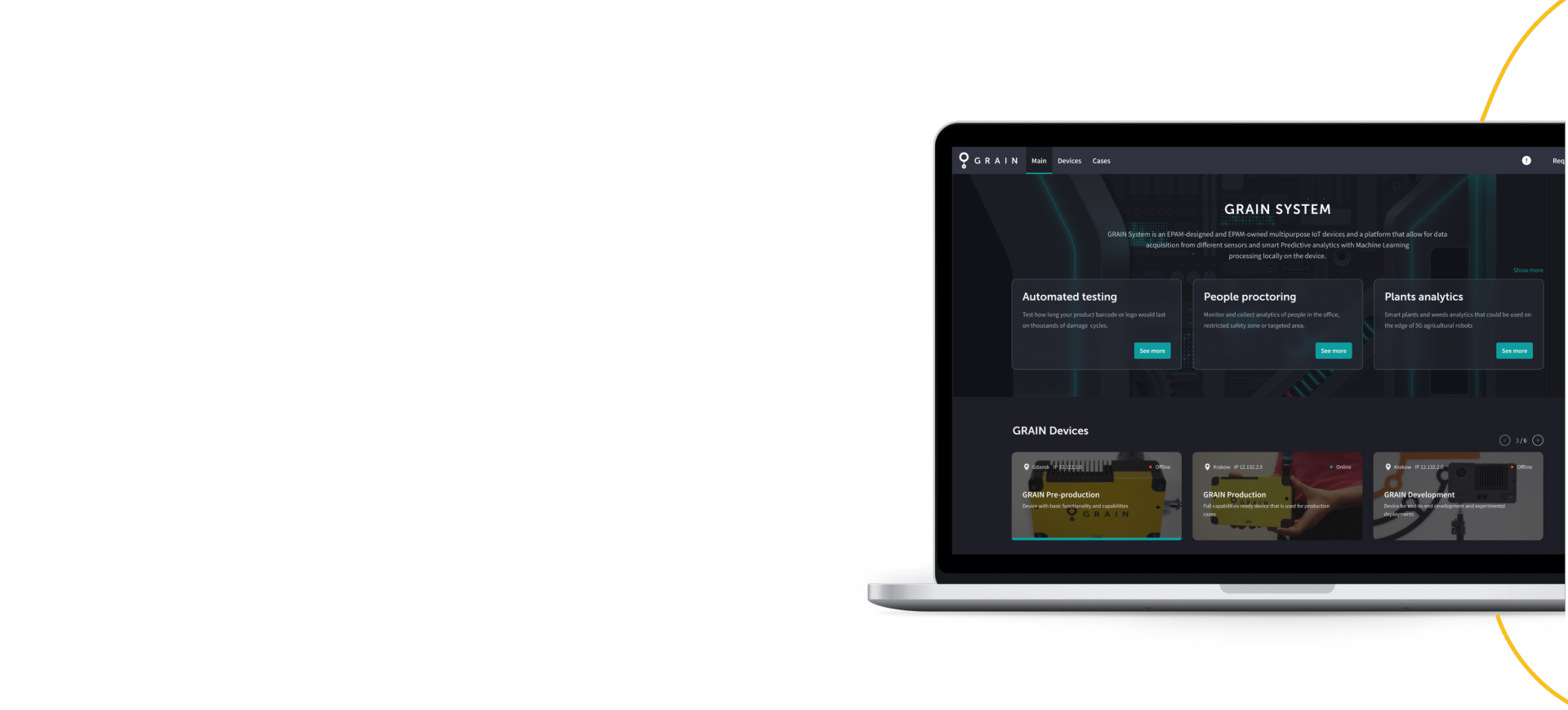 Developing a Cloud-Enabled Dashboard
Like so many successful products in market, our team knew we needed powerful software behind the device. With our UX/UI experts, we developed a centralized cloud dashboard built on AWS that provides a single control point and access for the devices.
GRAIN is a multipurpose IoT device and platform that enables data acquisition from different sensors (such as a color camera, thermal and depth camera, or those that measure temperature and humidity). This data is processed locally on the device through edge machine learning and smart predictive analytics capabilities. By connecting hardware, software, data science and the cloud, GRAIN can be deployed and customized quickly for any application that requires automated data collection and processing.
Some key features and benefits of GRAIN include:
Color and infrared cameras with support for external sensors like environmental, force sensing and more
Adaptable and durable hardware that can be mounted directly into industrial environments or home settings
Computation done on the edge to mitigate privacy and remove barriers for use in sensitive settings
Recognition of target patterns or markers through computer vision and edge machine learning capabilities
Readily modified hardware and software coupled with cloud-agnostic architecture to integrate directly into existing platforms
Combining Hardware & Software
Controlled by the cloud dashboard, barcodes move up and down rapidly while GRAIN collects information over days, saving engineers hours of analysis and increasing data fidelity. This image shows an application for GRAIN for automated accelerated live testing of barcodes, which was previously a very tedious manual process performed by our physical technology practice.
Creating Opportunities for AI-Powered Data Optimization

As the EPAM Continuum team continued to finetune the prototype, the devices were brought online. The system captured footage from high-speed barcode accelerated life testing and produced a fully automated analysis based on dozens of hours of data.
GRAIN has proved to be a reliable tool for gathering data in a real-world environment. Just think about the implications: Hospitals and physician's offices could monitor peak hours and optimize flow paths on location. Pharmaceutical and life sciences companies could automate data capture and analysis of lab studies. Retailers and hospitality providers could understand how traffic moves through their stores, hotels or airports.
And that's just the beginning. With GRAIN, businesses don't have to wonder how AI can work for them. A high-cost investment with long lead time is no longer required. Instead, you can optimize your AI and data acquisition projects quickly so you can reduce engineering costs while increasing data volume.
Recognized with an AI Breakthrough Award

In 2023, GRAIN was named the "Best Optical Character Recognition Solution" in the sixth annual AI Breakthrough Awards Program. The AI Breakthrough Awards recognize the most innovative companies, technologies and products in the AI industry around the world.
Interested in learning more about GRAIN? Contact us today!