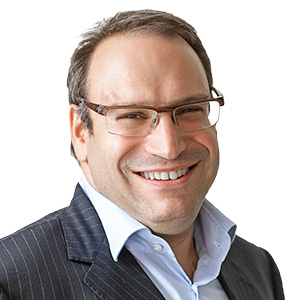 Blockchain was on everyone's lips at last year's Sibos. But that's not the B word likely to be dominating debate at the event in Geneva this month. Balazs Fejes, Co-Head of Global Business & Head of Financial Services at software product developer and consultancy EPAM, shares his thoughts in the wake of Brexit.
"2015 was the year when everybody talked about blockchain. Everybody talked about how much it will be impacting the industry and how, if you don't have a blockchain solution, you are dead in the water," says Balazs Fejes.
So, he's curious what this year's hot topic will be around the stands at Sibos, given the departure from key positions in the banking industry of some of blockchain's biggest advocates, including Simon Taylor at Barclays and Oliver Bussmann at UBS.
As the head of global business at software developer EPAM, Fejes remains alert to any opportunity blockchain offers, of course. "I believe if it starts happening, there are going to be major projects launched in this area and we are preparing for those opportunities."
But right now there's something else on the horizon that could be much more disruptive than a single distributive database. "The new Payment Services Directive, or PSD2, to me, is going to be a revolution," says Fejes. "I believe that it can fundamentally change the whole industry, more so than blockchain. PSD2 will introduce new players to the game, who can really take advantage of the fact that now you can develop API-based banking. I believe once PSD2 is out there, you will see Apple Pay or other mobile payment providers, provide another payment instrument, which is going to be amazingly powerful."
By new players, he's not talking fintechs, but the emergence of piggyback partnerships between the likes of Fidor Bank and Telefónica Germany, which launched O2 Banking using Fidor's banking licence this summer. It was the first mobile-only bank account from a mobile provider, complete with an O2 Mastercard. "What I'm really interested to see is if there is another type of company which is trying to couple its services. I'm looking for telcos – we're talking with quite a few of those," says Fejes.
There's a problem taking part in this debate, though, especially if you're a fintech sitting on the 'wrong' side of the English Channel. And that's the other B word that's likely to be on everybody's lips in Geneva. "Number one will be Brexit," says Fejes. "What does Brexit do for the fintech? What does Brexit do to the whole industry? That's going to be a big talking point, which is unfortunate because that's not really moving the industry on."
Instead, it's just caused confusion and delay – particularly around regulation. "Clearly, PSD2 is coming; we see a lot of people starting to implement parts of it. There's a good example with a UK challenger bank. They were preparing, ready to go, and then, due to Brexit, they were like, 'Wait, what are we doing now?' "This is what we are seeing from the UK financial services industry… 'Do we need to implement these regulations? If yes, in what form? And how much should we invest into it if the bank is no longer inside the EU?'"
Fejes doesn't see PSD2 as an instrument for democratising banking services; rather the increased competition that comes in its wake could simply dilute the value chain further, he says. He's also not convinced that banks have entirely appreciated it. "Do you understand that people have a chance right now to disseminate your value chain? Or will you stand behind somebody who is going to provide you with an aggregation capability or the API? So you're being compliant, but your brand and other access to the customer actually disappears, which is happening somewhat in Germany right now with what a major retail bank is proposing to all the small retail banks," says Fejes.
Pay as you go
As one of the Forbes 25 Fastest Growing Public Tech Companies, which recently posted second quarter revenues of $283.8million, up 30 per cent year-on-year, EPAM's 18,000 people, working across 25 countries, see digital design changing the lives of people every day, from their shopping, to travel, financial services and healthcare. But no one technology has had quite as much of a universal impact as mobile phones – and in Asia, mobile pay.
"The most advanced mobile payment solutions and mobile platforms I'm seeing today are coming more from the Asian market – WeChat and Alipay are really representing the forefront of such innovation, with wide acceptance and widespread usage," says Fejes. "Clearly, it's not an Apple platform, but it's way beyond what Apple Pay can provide. So, if today you are in Hong Kong, you can pay anywhere with your WeChat payment capability, which is based on QR codes or near field communications."
And it's not just payments, but wealth management and other sophisticated financial services. "The WeChats and the Alipays are sneaking into the more advanced market," says Fejes. "Compared to this, Apple Pay and mobile solutions are quite restricted. They're very much tied to card-based payments and Apple Pay is very much an aggregator, not a single player."
It's yet another example of the disrupters desiccating the traditional banks' value chain and robbing them of customer loyalty. "It's interesting, people are becoming more loyal, not to their bank, but to Apple itself," says Fejes. "Apple Pay drives loyalty towards Apple. I believe that once PSD2 is out there in the world, you will see that Apple Pay or other mobile payment providers will provide another payment instrument, which is a direct connection to your bank, which I think is going to be amazingly powerful.
"I just don't think other payment solutions are popular enough to make a difference. In Switzerland, you have Paymit; in the UK you have different banks launching different payment solutions; in the US you have virtual credit card setups. PayPal is introducing certain things; Samsung Pay is out there also. "However, the real traction is only coming from a couple of the players and these are either Apple, or the Asian competitors," says Fejes.
"We talk a lot about new payment solutions and seamless payment that's fully integrated. I think what's more visible, actually, is payment networks and acquiring systems or switching systems, preparing for this new type of payment to appear. We see the greatest opportunities where you have legacy systems behind credit card acceptance or clearing networks. They are going in and replacing those; trying to adopt and deploy new solutions, versus trying to adopt the old mainframe or batch-based solutions. I think there's a clear correlation between how modern the payment infrastructure is and how fast can they adopt this new type of near real-time solution."
But there's a flip side to convenience – data security. "One aspect is: how can you secure your mobile payment device itself? The second is: where are you storing this information, how is this information stored and how well is it encrypted? I think there are a lot of question marks around that. When you lose your phone, for instance, is there a way anyone finding it can reuse or get access to the payment instrument? The traditional fraud detection solutions that are out there are not really connected; they are not really taking all the data in and they're not understanding the data. So, my favourite example is that you use your credit card to buy a ticket and you fly to Spain. You are in Spain and the credit card company is blocking your usage. Why? Because they don't know that you are in Spain, although you used the credit card to buy the ticket. So you need to apply cumulative capabilities and really use the big data that you're collecting to make fraud detection a real-time thing. With a mobile device, that's a little bit more sophisticated. We're not correlating data using GPS coordinates – for example, 'I paid with a mobile device in one location, I just cannot be in the other location five minutes later.' So I think that there are some holes here."
Digital isn't everything
Fintechs have to recognise that improving the customer experience isn't all about digitisation, says Fejes – an issue that will be addressed in an upcoming EPAM white paper, which looks at, among other things, its work with wealth managers. UK online wealth management platform Nutmeg's struggle to turn a profit hasn't surprised him, not least because the onboarding process was 'much more than they had envisaged'. "When you talk about the Nutmegs of the world, we're not seeing that much uptake in Europe. This kind of change in the market is more dominant in the US, where millennials really distrust the (wealth management) industry," he says.
But the emergence of automated, online competitors has nonetheless made the traditional wealth management providers focus on customer retention – and that comes down to providing what Fejes calls the 'basic stuff'. "How can I add very basic functionality, such as portfolio analytics, health checks and suggestion engines, enriching it with content and providing a way to have more meaningful discussions with customers?
Maybe I'm not able to provide somebody more return because the market is not there, or somebody is very conservative, but I want to provide additional value. Can I provide concierge services with it? Can I provide additional content? Can I provide some sort of networking or new type of investment possibilities… charity, donations or social investing? These are the things we're starting to see being asked and the main driver is to retain customers and assets under management. It's all about making the client advisor more effective and driving more engagement. People still want to deal with somebody human at the end of the day.
They don't want a completely automated experience. That's going to be part of the white paper we're releasing in September: how far can robo go without being counterproductive?"