Global Opportunities with EPAM
Why GEORGIA
Sitting at the crossroads of Western Asia and Eastern Europe, Georgia is the total package. With warm hospitality, an up-and-coming IT industry, a more affordable cost of living, miles of coastline and a backdrop of beautiful mountains, there are endless opportunities for adventure, education and career advancement.
Up & Coming IT Industry
Georgia has a growing IT industry. Many global tech companies are opening offices and campuses, bringing the capital city, Tbilisi, closer to its goal of becoming a booming tech hub.
Welcoming Environment for Expats
While many people speak Russian, the majority of the country speaks English as well, so acclimating won't be a challenge. Plus, no visa is needed to enter or stay in the country.
Easily Accessible to Europe & Beyond
Georgia serves as a geographic gateway between Eastern Europe and Western Asia, allowing its residents to easily travel to neighboring European cities or fly to visit family in other areas.
Rich History & Culture
A wellspring of history, Georgian culture has roots in the Classical Greek, Roman and Byzantine Empires. As a result, there are a variation of architectural styles and cultural influences woven throughout the landscape.
Diverse Climate & Landscape
Nestled alongside the Black Sea and bordered by The Greater Caucasus Mountain range, Georgia has a delightfully diverse climate—warm and temperate by the coast and cooler temperatures with snow in the higher elevation areas.
Gastronomy & Nightlife
Georgia has a prominent tourism economy, featuring many clubs and restaurants. With influences from Persia, Greece and Turkey, the country's cuisine serves up a delicious melting pot of flavors.
How EPAM Supports Relocation
ASSISTANCE ORGANIZING RELOCATION-RELATED DOCUMENTATION
CONSULATE VISIT LOGISTICS SUPPORT
HELP WITH RELOCATION LOGISTICS
HEAR FROM EPAMERS WHO RECENTLY RELOCATED TO GEORGIA
Evgeniy Chichko
Systems Engineer  
One of the things I've loved since moving to Georgia is its wonderful nature. There's so much variety within a short distance. In only a couple of hours you can visit majestic mountains with white snow caps or walk along the embankment in sunny Batumi.
Aliaksandra Shymanskaya
Project Administrator  
I always wanted to try living in a new country and experience a different culture. EPAM gave me the opportunity to turn this into a reality. Delicious food, sun, beautiful nature and hospitable people! That sums up Georgia and why I'm really enjoying living here.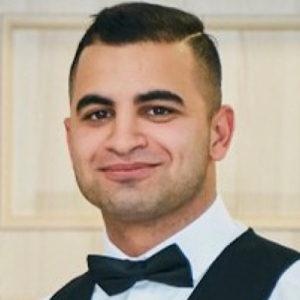 Aliaksandr Yazepchyk
Recruiter
I moved to Tbilisi with my family. We really appreciate the improved health, education and general development opportunities for our children. Georgia also has beautiful landscapes, a lot of history, and a wonderful climate. When we moved, I started a new role with EPAM – to identify talented young people at universities that we could hire. In taking up this opportunity, I knew I would acquire additional skills and gain an exceptional work experience at the EPAM Training Center.  
RELOCATION PROCESS
JOB OFFER
Exposure to new cultures and opportunities
SIGN A NEW CONTRACT
The start of your new career opportunity
RELOCATION TO TBILISI
One-way ticket for employee and employee's family, transportation assistance, temporary housing, onboarding support
WORK EXPERIENCE
Innovative projects with market-leading customers, collaborative environment, corporate benefits
Already living in Georgia?
Learn more about EPAM in Georgia and our current job opportunities.