EPAM CONTINUUM


Driving the 4x4 Grenadier Digital Launch
How EPAM Continuum Delivered an Immersive,
Award-Winning Experience for INEOS Automotive
SERVICES
Next-Gen Marketing
PARTNERS
Sitecore
Salesforce
SAP
In 2017, INEOS Automotive owner, Jim Ratcliffe, a car enthusiast and experienced adventurer, identified a gap in the automotive market for a stripped-back, utilitarian, hard-working 4X4 engineered to modern standards. INEOS Automotive Limited was formed, and a senior team of automotive professionals assembled to bring the vision to life and take a fresh approach to 4X4 development and manufacturing. The result? The Grenadier, an uncompromising 4X4 built from the ground up.
A Digital-First Experience for the Grenadier 4x4

In 2021, as a new entrant to the hyper-competitive automotive industry, INEOS Automotive was looking for a partner that could help establish its brand; build an engaging website for the Grenadier 4X4; and apply innovative thinking to create a unique, direct-to-customer purchase and ownership experience that fits a digital-first model. INEOS Automotive selected EPAM Continuum as a strategic digital partner because of our next-gen marketing expertise, creativity and successful track record in delivering large-scale, digital solutions for enterprises.
Using Sitecore technology, we worked together to deliver a multichannel digital platform with an exciting vehicle configurator that enables a seamless, integrated experience for users. The solution allows customers to move through an immersive, end-to-end Grenadier purchase journey on the channel of their choice. With engaging marketing strategies and campaigns, EPAM Continuum helped INEOS Automotive build a powerful brand presence that showcases why the Grenadier stands out from the competition and is a vehicle customers can trust.
For their outstanding work on the Grenadier digital launch, INEOS Automotive and EPAM Continuum received a Sitecore Ultimate Experience Award for 'Best in Connecting the Experience.' This award recognizes companies that use Sitecore to turn customers into dedicated fans.
15,000
Total reservations from September
2021 – April 2022
455%
Increase in website conversion to purchase
1,500
Orders placed within the first 12 hours
during Grenadier Day
Project
Highlights
Discovery
Back in May of 2021, EPAM Continuum and INEOS Automotive got to work, standing up an eight-week remote discovery phase to define the website roadmap and marketing support to make every critical business milestone successful.
We also ran discovery workshops and alignment sessions over four months to further define the user experience, customer journey, marketing materials and integration points needed to give users a seamless transition from the marketing site, to reservations, to vehicle orders within 12 months.
Marketing Campaigns & Support
Marketing Campaigns & Support
With the goal of creating a community of dedicated fans for the Grenadier, the teams delivered emotional, relatable experiences and immersive, personalized moments to customers through a variety of marketing campaigns. EPAM Continuum designed and built web pages and created engaging content for key campaigns to achieve this goal:
On Information Day, full product details and specifications were released to customers. INEOS Automotive also unveiled the 'How to Buy' and 'How to Service' programs, to educate customers on the purchasing and servicing processes for the Grenadier. In the first 12 hours of the campaign launch, INEOS Automotive met its two-week reservation target.
The Building the Grenadier campaign provided customers with an open-garage-door view into the development of the vehicle to connect people with its story. This campaign gave people an exciting look into design decisions, the Grenadier's build and how the company selected the automotive partners that would deliver quality and durability for the vehicle.
The Grenadier Trails campaign consisted of a series of shorter-form videos that showed the Grenadier taking on some of the world's toughest terrains, including the Australian outback.
The Final Mile campaign celebrated the end of the Grenadier's 1.1 million miles of testing with five notable people driving the vehicle and providing their opinion on its capabilities. These people included Eliud Kipchoge, one of the greatest marathon runners of all time; F1 driver George Russell; and Toto Wolff, Team Principle of the Mercedes-AMG F1 team.
Following a customer voting process that began in 2022, the Hard Way Home campaign selected three lucky individuals who picked up their 4x4 vehicles from Morocco and drove them home through some of the world's toughest off-road terrain.
Site Build
EPAM Continuum and INEOS Automotive built the Grenadier website using Sitecore 9.3 in a headless configuration with JSS services. INEOS Automotive uses EPAM's Sitecore XP to SAP Commerce Connector to accelerate integration directly with SAP Commerce Cloud and Azure B2C for authentication. Other integrations include SAP C4C and Salesforce for lead and case management and S/4 Hanna for the vehicle configuration and build management. EPAM Continuum also delivered market sites for the 36 countries distributing the Grenadier, which are split across agent and dealer/distributor marketplaces.
Platform Architecture
EPAM Continuum and INEOS Automotive's teams defined and delivered a Sitecore-based platform architecture that provides an outstanding digital customer experience on the Grenadier website. The platform enables the car configurator to seamlessly connect with CRM, purchases, social media, Sitecore and INEOS Automotive's own integration layer and additional systems. Best of all, the platform perfectly aligns with INEOS Automotive's architecture principles to ensure seamless integration and full compatibility.
Vehicle Configurator
INEOS Automotive wanted to frame the website around a vehicle configurator that would immediately connect customers with the Grenadier and give them the feeling of owning their 4X4 from the moment they started to build it. To kick things off, EPAM Continuum and INEOS Automotive defined the requirements for the vehicle configurator, designed and wrote it, and created the UX. EPAM Continuum then partnered with INEOS Automotive's chosen configurator partner MHP to integrate its immersive configurator platform, powered by Unreal Engine. To inspire creativity, we also created Grenadier image galleries where users could build the exact vehicle they wanted. With the checkout process that flows right from the configurator, customers have an all-in-one immersive and seamless experience.
Ordering & Checkout
To enable a smooth ordering process, EPAM Continuum worked with INEOS Automotive to plan, design and write the entire checkout flow that enables customers to pay deposits, lock in prices and explore part exchange and financing options. We then created an easy-to-use account tool that presents all payment information to customers. Additionally, the website can notify customers when they need to take action, when their order reaches a new status, and when their vehicle is arriving and can be picked up. Within two months of the launch, INEOS Automotive achieved its 2022 yearly sales target through this new ordering process.
Brand Voice & Copywriting
Brand Voice & Copywriting
INEOS Automotive knew that branding and tone of voice played a vital role in helping build trust, as well as excitement, for the new vehicle and brand. EPAM Continuum worked closely with INEOS Automotive to develop and implement the distinctive, no-nonsense, hard-working Grenadier tone of voice throughout the digital journey. Our work also included writing calls to action, headlines, content, product pages and commerce flows. The tone of voice and marketing copy saw good early success by helping increase subscription form performance by 16%.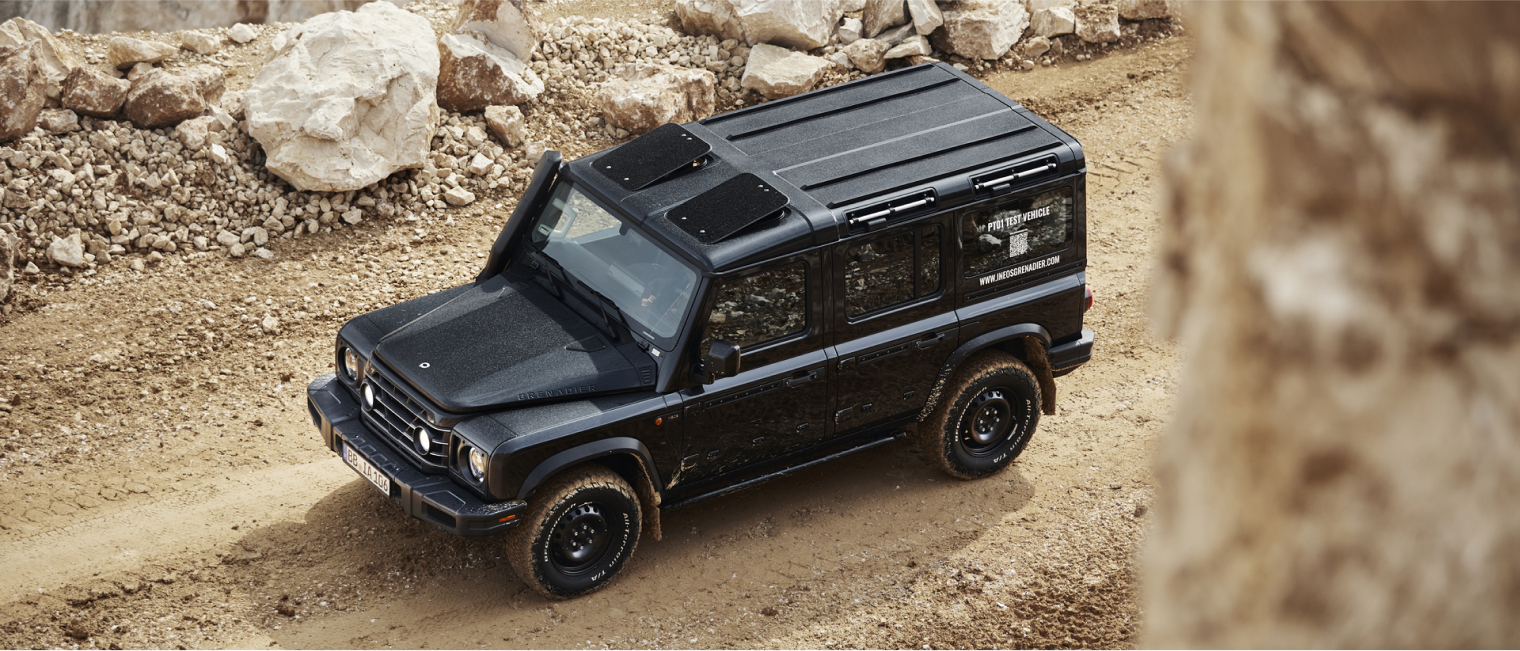 Looking to the Road Ahead
EPAM Continuum and INEOS Automotive are continuing to partner together on business milestones that will support the Grenadier moving forward, including:
Activating digital strategy and marketing initiatives to support the transition from vehicle purchase to ownership

Supporting website upgrades and
enhancements

Creating a hub of educational videos for new owners to learn the capabilities of their new Grenadier

Handing over the vehicle to customers digitally, including contract signing, finance applications and final invoicing

Launching new vehicle models, such as the Quartermaster

Supporting launches in the US, Canada and Mexico
"EPAM Continuum has provided the foundations for our first vehicle launch and a digital groundswell of passion for the Grenadier brand that cuts a new path for the automotive industry. It is creating innovative, differentiated, emotional and relatable experiences, along with personalized moments that others in the industry will want to follow."
Matt Dunnakey
Global Head of Marketing, INEOS Automotive
We can help you achieve similar results for your business.
Discover more about our Sitecore expertise.